Filling Process on Bihar Bhumi e-Mutation Registration Online at biharbhumi.bihar.gov.in website…..
The Municipal body in a city is tasked with the responsibility of keeping records of property ownership transfers to fix property tax payment liabilities. This applies to all sorts of immovable assets including flat, land, individual home to mention a few. That is where mutation comes in handy as it shows a property has been transferred from one person to another.
If you have bought land in Bihar state, then you will have to apply for mutation. To pull this off hassle-free, you have to submit a copy of the sale deed, latest property tax clearance papers, an application for mutation of a property with Rs 3 court free stamp affixed in it to name a few. Provided you have the required documents, you can easily file for mutation of property.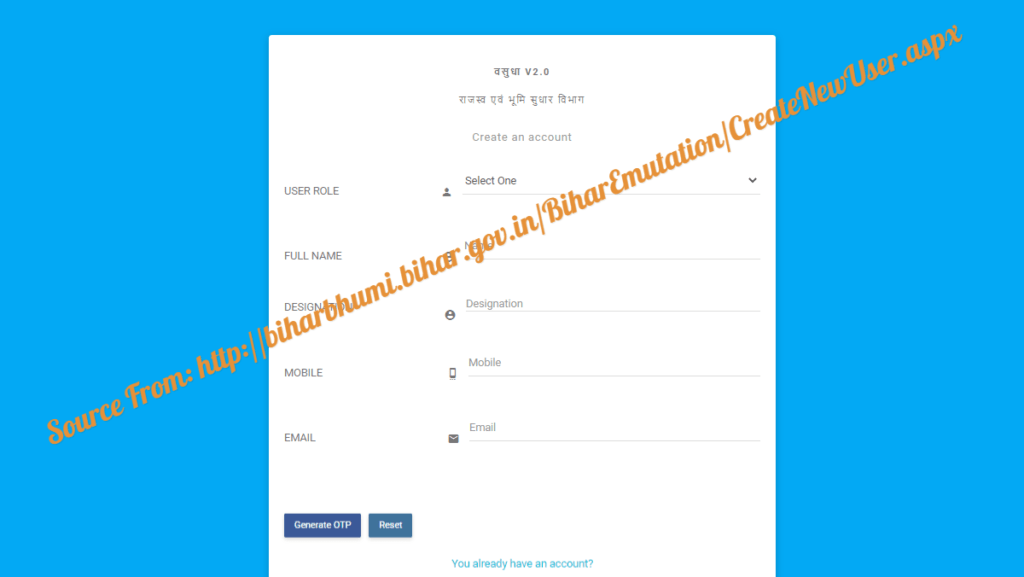 Bihar Bhumi e-Mutation registration
To ensure you have a remarkable experience, today we will take you what it takes to complete Bihar Bhumi e-Mutation registration. Below are the simple steps you need to follow before you finally complete the entire process;
Open any web browser of choice and type in http://biharbhumi.bihar.gov.in/ as the URL on the search tab. Tap on the 'Enter' button to initiate a search
The above action will redirect you to the home page of the Bihar Bhumi website. Here, select the 'Login' option
From the drop-down list that appears, you will have to click on the 'Online Mutation' option
You'll be redirected to the 'Online Mutation' page of the Bihar Land Department of Revenue, Registration, and Land Reforms website
To create your account, click on the 'New User' option
On the new page that appears, select the 'User Role' from the options provided
Now enter your full name in the space set aside for this detail
Correctly fill in your 'Designation' after which you should enter your registered mobile number
Next, enter your active Email Address and click on the 'Generate OTP' button and a One Time Verification Pin will be sent to your registered mobile number
Enter the OTP you've received and choose your Password
Confirm the password after which you should click on the 'Register' button. You've now completed Bihar Bhumi e-Mutation registration
The Bottom Line
Completing Bihar Bhumi e-Mutation registration and also you can e-mutation status does not have to be the underlying reason why you are going through a hard time. Provided you understand the important things to watch out for, it will only be a matter of time before you get done with the process. Hopefully, this post will come in handy in your quest to complete Bihar Bhumi e-Mutation registration without encountering any issues whatsoever.