Bihar Bhumi LPC Online Apply and Bihar LPC Application Status at biharbhumi.bihar.gov.in website….
Land Possession Certificate (LPC) is amongst the most important land documents in the State Government of Bihar. And this does not come as a surprise since it shows how much land is in your name, not forgetting how much land is registered with the government. However, you need to complete the LPC application process before enjoying the numerous benefits it has to offer.
If you are looking forward to completing the LPC application process on the web portal, then today is your lucky day. Keep reading to find out more.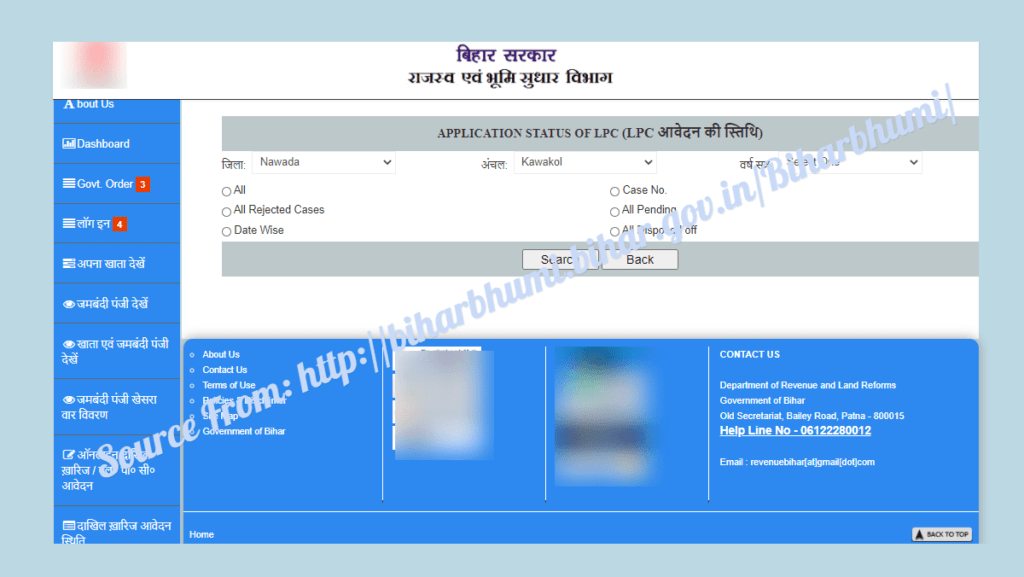 How to Complete Bihar Bhumi LPC Online Application Status / Filing Rejected
Completing online filing rejected / LPC application is never going to take most of your time. To ensure you have an easy ride, below are the simple steps you need to follow before you apply for the LPC land document from any location of choice
Open any web browser of choice any type in http://biharbhumi.bihar.gov.in/Biharbhumi/ on the search tab before initiating a search
You'll be redirected to the homepage of the Bihar Bhumi website. Here, click on the 'Filing Rejected / LPC Application' option
A new web page will appear on the screen of your device. Correctly enter your Email ID and Password in the space set aside for these details
Enter the Captcha Code as it appears on the image after which you should click on the 'Login' button
If it is your first time visiting the website, click on the 'Register' button to complete the registration process before you can access your account
After a successful login, choose and fill your District and Circle from the drop-down list that appears after selecting each option
Next, click on the 'Apply for LPC' option
Now correctly fill in all the required details including District name, Zone name, Mauza name to mention a few
Choose the option for which you want to search your land and click on the 'Search' button
You will then have to choose your land and click on the 'Select' button. This action will redirect you to a new page from where you can see all your details.  Click on the 'Apply for LPC' button if satisfied
Fill in all the mandatory details on the new page that appears after which you should upload your Affidavit in the prescribed format
Enter the Captcha Code and specify the Purpose of the LPC application. It is then that you can click on the 'Save' button
You've now temporarily submitted your application. To submit it permanently, simply click on the 'Final Submission' option.
Be sure to confirm all the details before submitting your application since there is no room for errors. Furthermore, you must remember to save your application and declaration form.