How to Book an Appointment for Bihar Land Property Registration at biharregd.bihar.gov.in website….
Booking an appointment for Bihar land or property register is no longer stressful, as was the case a couple of years back. With what technological innovation has to offer, every piece of information you need about land records in Bihar State is now a button click away. However, you need to understand what is expected before you can finally take advantage of the digitization of land records in Bihar.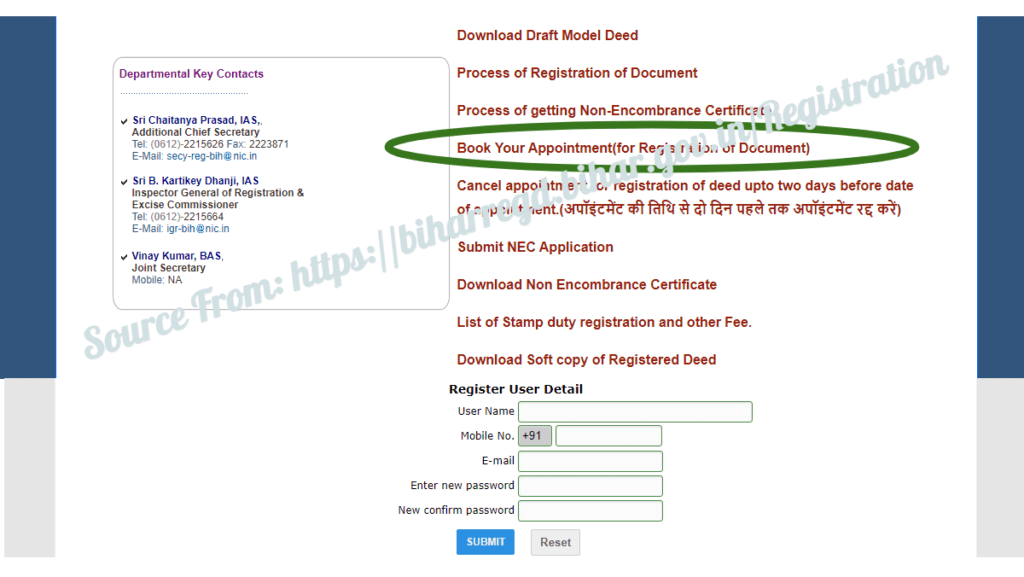 Book Appointment for Bihar Land Property Registration at biharregd.bihar.gov.in
If you're looking forward to booking an appointment in Bihar, then you have certainly come to the right place. Below are the simple steps to follow for you to finally complete the entire process from the comfort of your couch;
Before doing anything else, you will first have to visit the official website of the Bihar Registration, Excise & Prohibition Department. To pull this off hassle-free, type in https://biharregd.bihar.gov.in/Registration as the URL on the search tab of your most preferred web browser before initiating a search
You'll be redirected to the portal's homepage from where you have to click on the 'Book Your Appointment' link
The login page will appear on the screen of your device from where you should correctly fill in your 'Email ID or 'Mobile Number' and 'Password'
Enter the Captcha Code as it appears on the image after which you should click on the 'Login' button
For new users, simply select the 'New Registration button
The above action will redirect you to the 'Register User Detail' page. Here, fill in your User Name, Registered Mobile Number, and Email ID
Enter your new password and confirm the same after which you should click on the 'Submit' button.
Now click on the 'User ID Activation Link' sent to your email address to complete the registration process after which you can access your account with the new login credentials
After logging into your account, you need to correctly fill in all the necessary details. They include Name of the Presentent, type of document, mode of payment, registry office, e-Stamp number to mention a few
Choose the 'Purpose of Appointment' from the drop-down list that appears
Once you fill in all the details, click on any green slot to book an appointment
A pop-up message will appear asking you to confirm the visitor appointment, click on 'OK' to confirm
Click on the 'Print Appointment Acknowledgement' option to see the details of your appointment
Finally, click on the 'Check Status and Print Appointment' option to complete the booking process
There you have it, what it takes to book an appointment for Bihar land online. The good news is that you can perform this action at any time of the day, provided you have access to a strong internet connection. Through this action, you'll save yourself both time and money that you would otherwise have used had you decided to visit the relevant offices. Remember to log out of your account once you book the appointment to prevent unauthorized access.