Online Procedure on How to check Biharbhumi View Account and Registration Register service / Bihar ROR Service at biharbhumi.bihar.gov.in website….
The Bihar State Government has decided to launch a new web portal to access of Bihar land records data. Farmers and landowners may have to check their Bihar Bhumi land records or any other details in the official web portal. This is after the digitization of land records in the state allowed for easier access to the needed services.
Bihar Records of Rights (ROR)
Actually the full form ROR is Records of Rights. The ROR contains vital information about the land, the history of landowners, not forgetting the rights of the landholder. In short, it serves as the perfect indicator of the status of property or land.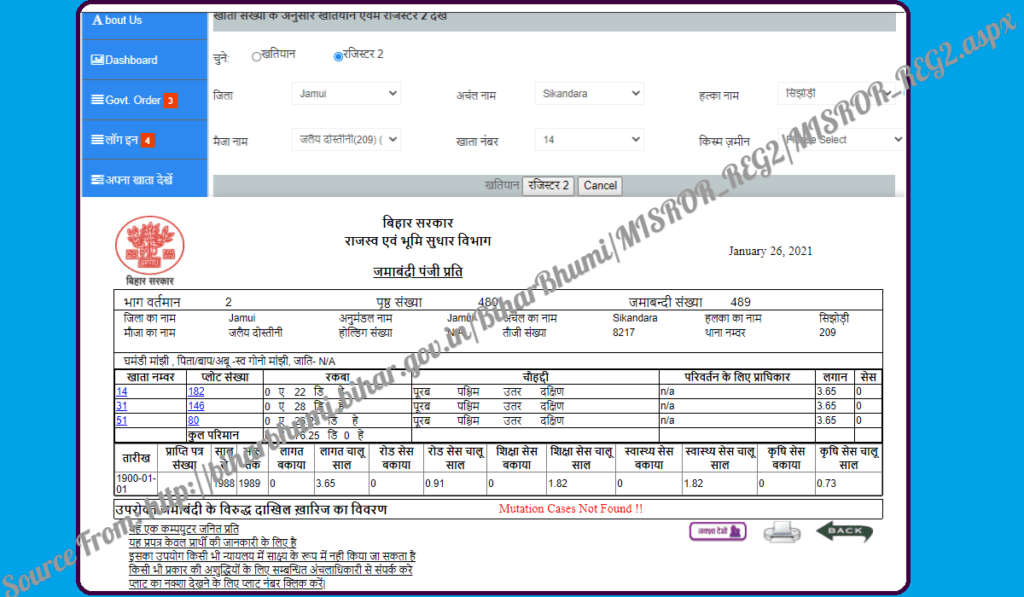 Bihar Bhumi View Account and Registration Register service (Bihar ROR Service) at biharbhumi.bihar.gov.in
If you are looking forward to checking your account and registration register service, then the steps are as follows….
Open your most preferred web browser like Chrome or Mozilla or Opera and then enter this URL: http://biharbhumi.bihar.gov.in/Biharbhumi/ on the search tab to access the official website of Bihar Bhumi portal
On the homepage of the portal, you need to click on the 'View Account and Registration Register' tab that is below the 'See the Registration Register' option
It can be redirected to a new page it will appear on the screen from where you have to enter the Khatiyan and Register details
Select your District from the list given after you must fill the Last Name and Short Name in the required fields
Fill in all the other details including Name, Account Number, and Variety Land from the drop-down list that appears after clicking on each option
Finally, click on the 'Submit' button and your Bihar land account and ROR registration details will appear on the screen of your device
That's it. This is the detailed process on How to view account and registration service on the official website of Bihar Bhumi. Anybody want to know this information please make sure you need to connect the high speed internet provider.
Bihar Bhumi portal has come at the right time when most state governments in India are digitizing their land records. Initially, citizens had to visit the Revenue office and make do with the long queues, but the portal has changed all that. Nowadays, you can access all the information on revenue, land, and property online hassle-free.